FOR EPIC ECO SKY SPEED
EPIC ECO introduces a unique way for ceiling shuttering. The Span is Low weight as EPIC ECO Speed - Span weights only 7,5 kg / 16,5 lb and is thus extremely light in comparison with all other supporting systems for the preparation of ceiling surfaces.
It can take great load as built in glass fibres enable support of ceiling plates up to 50 cm / 20 in thickness without problems.
It can be used for panelling all types of spaces - it can be used to panel all dimensions of ceiling panels at construction sites, for it can be installed lengthwise, parallel, in sequence or alternately.
Epic ECO SKY Speed, first panelling system, made from fibreglass and plastic, meaning revolution novelty between worldwide formwork systems. Epic d.o.o., is with development new ceiling panelling system, become world leader developer on fibreglass and plastic panelling industry area.

Ceiling System is of four types depending upon the slab thickness upto 47 inches.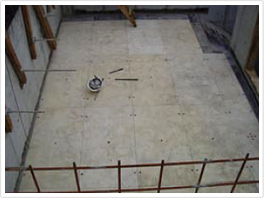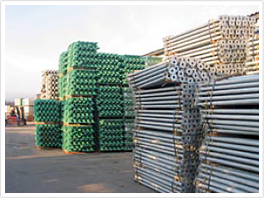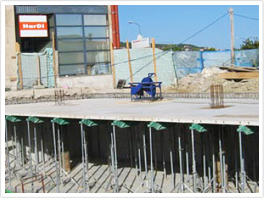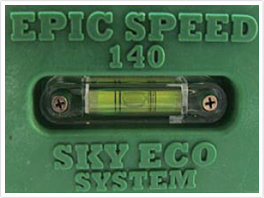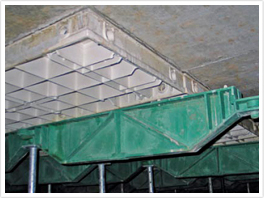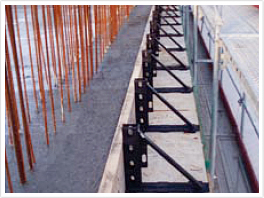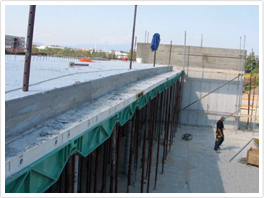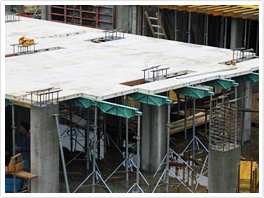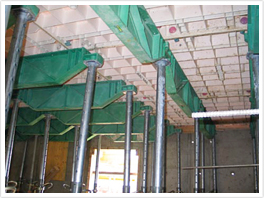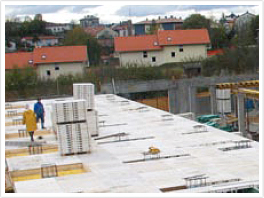 |
FOR EPIC ECO SKY STRONG
It can withstand point loads of more than 6000 kg / 13200 lb and represents one of the most compact support elements of ceiling panelling in the world. Its characteristics can be compared with steel brackets, but EPIC system is much lighter
.

FOR EPIC ECO SKY WOOD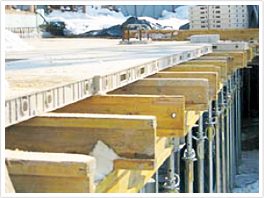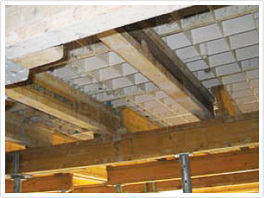 EPIC Sky Wood is combination of Composite panels with props, wooden beams and composite pieces Epic Eco

With EPIC ECO SKY WOOD we can manufacture concrete plates (slab) with thickness up to 50 cm / 20 inch.

The panelling of ceilings with EPIC ECO SKY WOOD represents a novelty and revolution in ceiling system, for they considerably lower the cost of wood by using this system - there is no cost of shuttering wooden panels for ceiling panelling
.
|
FOR EPIC ECO SKY LIGHT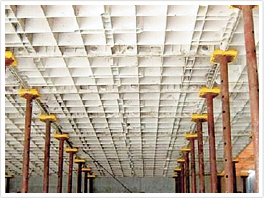 Epic composite ceiling system epic eco with props, floor support and composite pieces epic eco. This is without the Span.

With this system of formwork we can manufacture concrete plates with thickness up to 15 cm / 6 inch. With New Blue Epic ECO elements thickness up to 25 cm / 10 inch.

The EPIC ECO elements, which can be used in Vertical walls can also be used for manufacture of ceilings by adding only one additional element - plastic top for props.

The speed of panelling with the composite systems EPIC ECO is very fast, and abundant palette of elements allows the best possible panelling composition; no redundant area of system is installed, because the area of panelling almost completely matches the area covered in concrete. The composite systems EPIC ECO are practically indestructible. The elements withstand from 6 to 10 years of installations, after which they are recycled.

|
|
It enables easy warehousing - due to its uniform length of 1,4 m / 4,6 ft it does not cause problems when warehousing, unlike wooden brackets of different lengths up to 8 m / 26,2 ft. Also, a construction company purchases the uniform length of 1,4 m / 4,6 ft and does not need to purchase different sizes of wooden brackets, which usually remain unused in the warehouse;It can have Simple mounting - EPIC ECO SKY SPEED can be installed by a single worker, for it is light, the speed of installation is 5 minutes per 1 m² / 10 sqf the same applies for disassembly.
Decreasing the cost of panelling by 30% - by using brackets Epic ECO Speed there is no need to use the forks, so the Speed is installed directly on the supporter, which eliminates the cost of purchasing the "I" brackets and forks, with which to mount the brackets and angle head;
Simplicity due to low number of elements - EPIC ECO SKY SPEED simplifies and improves setting up the panelling behind the ceiling plate, for ceiling panelling Epic ECO SKY Speed is comprised of only three elements: support, ECO Speed bracket and Epic ECO cassette element.

Each beam EPIC ECO SPEED can have spirit level below so that is much easier to level ceiling system.
With very low price of renting the entire panelling system, including ceiling tiles. Very competitive price - Epic ECO SKY SPEED system has lowered the cost of panelling ceiling tiles for at least 30%, for the price of the entire ceiling panelling is considerably lower in comparison with any other ceiling panelling system.
It can be used at extremely high temperatures, up to 50°C / 122 °F- you can touch EPIC ECO without problems, while you cannot touch hot steel without being burned;

All-round use - it can be used as a part of the EPIC ECO SKY Speed ceiling panelling system, or also in combination with all other panelling systems (aluminium cassette systems, panelling panels, plywood panels, steel panelling systems, etc.) only as a supporting element of ceiling panelling;

It can withstand point loads of more than 3000 kg / 6600 lb and represents one of the most compact support elements of ceiling panelling in the world. Its characteristics can be compared with steel brackets, but EPIC system is much lighter


Due to its length of 140cm/4,6ft and its technology, it can be installed lengthwise or in squares, etc.; Reinforced with glass fibres that guarantee its rigidity and flexibility at the same time. Elements are packed onto palettes and thus easy to handle. None of the elements weights more than 20,5 kg / 41,2 lb.The system allows for rapid work, quicker than cassette aluminium systems (EPIC Alfort, Peri Skydeck, etc.). With the purchase of one extension (25 % greater number of ceiling elements and supports) one can install the easy support based on a three day formwork in advance leaving only the framework with 30 cm / 1 ft wide elements and line of support (similar to Epic Alfort);
It replaces all previously used support systems, like "I" wooden brackets, aluminium brackets, steel brackets, beams, etc.;